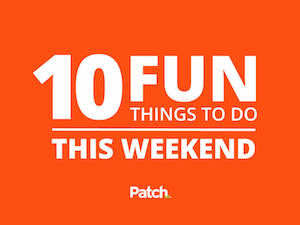 AURORA, IL — Is Wednesday too early to start thinking about the weekend? We sure don't think so. Here's a list of ten unconventional Halloween-themed things to do in your area. Prices range from free to $30 for a specialized zombie haunted house. Happy haunting!
AURORA
Find The Superhero Or Princess In You! Attention Families of Children with special needs: Join Angels of Hope, The Aurora Police Dept., and The Fox Valley Park District for this free event featuring Batman, Iron Man, Cinderella, Belle, Elsa and Aurora Police Officers. Children are welcome to dress up in their favorite Halloween Costume or any outfit that makes them feel special. This free event takes place Saturday, Oct. 21 12:30 p.m. – 2 p.m. at the Prisco Community Center, 150 W. Illinois Ave.
Halloween Story Time , Fox Valley Mall: Friday, Oct. 20 and 27, 5 p.m. Come dressed as your favorite character and join us for interactive story time, games, a costume parade, and a free giveaway from the Disney Store. Location: Fox Valley Mall play area on level one near J.C. Penney.
Family Fall Fest: Guests can visit a petting zoo, paint a free mini pumpkin and enjoy face painting, balloon animals and coloring stations. Saturday, Oct. 21 from noon until 2 p.m. Location: Fox Valley Mall, level one center court near fountain.
Pumpkin Palooza: Dress up in your favorite costumes and bring the whole family to this fall festival. Take part in a variety of games, crafts, activities, snacks and a bounce house. Ten activity tokens are included with registration, with option to purchase more at the door. Oct. 21, 2-3:30 p.m. $12. Location: Eola Community Center at 555 S. Eola Rd.
Escape Room: Work as a team to solve puzzles and answer riddles to break out of this haunted theater escape room before time runs out! Groups may book a 30 minute time slot. Oct. 20, 6 p.m. – 11 p.m. $12, register online. Location: Prisco Community Center, 150 W. Illinois Ave.
OSWEGO
Park After Dark: This is not your average haunted house. The zombie plague is sweeping across the nation and it has infested Oswego. Meet up at South Point for your evacuation orders. You will be transported out of town through the remote "hot zone." Your only chance of survival is to make it through this heavily infested forest without becoming infected. $30, Friday and Saturday, times vary. Register online.
Poltergeist Screening: 6-12 graders can bring a beanbag chair or something comfy for a seat. Snacks will be provided, registration required. Rated PG. Oct. 20 at 6:30 p.m. in Oswego Library's Oswego campus.
NAPERVILLE
Hayrides: Round up the family and take a hayride in the crisp autumn air through a beautiful Naperville park. You may bring your own food to cook over the bonfire or bring the fixings for s'mores. They provide hot chocolate and apple cider. No alcohol allowed. Picnic tables are provided. Bring your own chairs, blankets, flashlights and insect repellent. Children under three may ride for free and do not need to be registered. Each child and adult attending must register. Sunday, Oct. 22 from 2 – 4 p.m., $8 – $12 per person. Location: Seager Park Pavilion, 1163 Plank Rd.
Holiday Lights Tour: The Naperville Trolley is hosting light tours every night at 7 o'clock. An additional 8:30 time has been added for the weekends. The tour meets at Aurelio's Pizza, 1975 Springbrook Square in Naperville, and lasts an hour. Please arrive 10 minutes early. Everyone, no matter the age, needs a ticket. $18. No refunds, no strollers. Register here.
Hollywood Palm's Free Horror Series: Check ahead for show times. Screenings include: Alien, Suspiria, The Shining, The Labyrinth and The Witches. 352, Rt. 59 in Westridge Court.