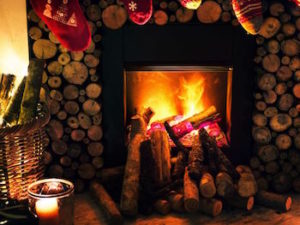 When it's cold out, everyone knows there's no better place to be than hunkered down by the fireplace.
But did you know the creosote buildup found in unmaintained chimneys is a leading cause of dangerous house fires? Not good.
If you're about to have a house full of family and friends over Thanksgiving, now's the time to schedule an annual chimney cleaning and inspection. A pro will make sure your chimney is filtering smoke properly and that any materials utilized in your remodel are fire-rated so you can cozy up safely.
Once things are safe and clean, here are a few ways to upgrade your fireplace so you'll actually want it to be the focal point of your living room all season long.
Clear Away Cracks
Average Cost: If you need to repair a few cracks, you can expect to pay around $175. Fixing a water leak ranges from $150 to $350 (depending on whether you DIY or hire a contractor) and crown repairs average $150 to $300.
Change the Color
Average Cost: The average cost to paint a small project is $656, but this will vary based on the size and material of your fireplace, as well as the quality of your supplies.
Build a New Mantel
Average Cost: On average, homeowners pay $5,547 to hire an interior decorator or designer. Most homeowners report paying somewhere in the range of $1,884 to $9,655. Obviously, this number will vary based on the scope of your project and the designer's rates.
Switch to Gas
Average cost: Gas-burning fireplaces require less maintenance and burn cleaner (and safer) than their wood-burning alternatives.The national average price for gas fireplace installations is $1,979. For comparison, the average wood-burning fireplace installation costs between $835 and $3,134.